10 Benefits Of Choosing A Pediatric Dentist For Your Kids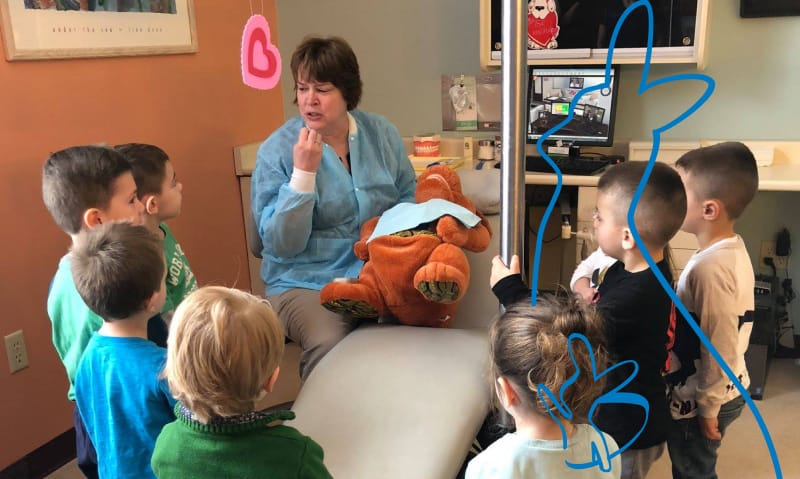 Why go to a pediatric dentist?
From the moment they sprout their first tooth through puberty, your child's oral health influences their overall health and development in so many ways. One of the best ways to ensure your child experiences the benefits of a healthy smile is to establish a relationship with a kids' dentist who provides exceptional care while aligning with your child's unique personality and needs. As you start searching for the "best dentist in Rochester, NY," you may be unsure if you should choose family dentistry or pediatric dentistry.
Ultimately, know that the best decision is the one that feels right for you, your child, and your family. To help you gain the information you need to make the choice that's right for your situation and needs, here are the top 10 benefits of bringing your child to their own oral health specialist (AKA, a pediatric dentist).
1. A pediatric dentist chose to work with kids.
Like a family dentist, a pediatric dentist has received their Doctor of Dental Surgery (DDS) or Doctor of Dental Medicine (DDM) degree—but they didn't stop there. After they received their four-year dental degree, a pediatric dentist chose to pursue an additional two to three years of specialized training that would specifically equip them to treat kids. A board-certified pediatric dentist has also passed a rigorous face-to-face exam before a panel of distinguished pediatric dentists. All this additional training makes them uniquely qualified to deal with the specific needs of children.
2. Pediatric dentists are experts in child development.
A pediatric dentist is also known as a pedodontist, from "pedia" (child) and "dontist" (one who studies teeth). In other words, a pediatric dentist is one who studies and specializes in child oral health and development. While any family dentist is able to treat children, pediatric dentists have completed the most training on a child's dental, behavioral, and emotional needs. Because of this training and experience, pediatric dentists are especially skilled at responding to a child's reaction to their dental visit and in creating positive and successful dental experiences for infants, kids, and teens.
3. Pediatric dental offices are kid-friendly.
Your child's comfort is a top priority at a pediatric dental practice. Pediatric dental groups decorate their offices to appeal to a child's tastes, select staff who are great with kids and teens, and are stocked up with plenty of toys, books, entertainment, and games to help your child (and you!) feel that they're in a fun, safe place.
4. A pediatric dentist can help your child make (or break) oral habits.
With their extensive background in child psychology and development, a pediatric dentist can provide personalized and age-appropriate guidance to help your child establish positive oral health habits (like flossing daily) or discontinue disadvantageous habits (like extended pacifier use or thumb-sucking). If you have any concerns about your child's teeth or their oral hygiene habits (or lack of), a pediatric dentist will be able to guide your child in creating a positive dental routine.
5. Pediatric dentists are skilled at treating children with special needs.
Pediatric dentists are skilled at providing exceptional and personalized dental care to all children, and that includes children who have physical, developmental, mental, sensory, behavioral, cognitive, or emotional needs. With specific training on how to provide caring and quality preventative and restorative dentistry to children with special needs, a pediatric dentist will work with you and your child to tailor in-office dental care and to establish an at-home routine to keep your child's smile strong and healthy.
6. Pediatric dental offices specialize in age-appropriate preventative care…
Preventing cavities, injuries, gum disease, and other oral health issues before they begin is a pediatric dentist's top priority for your child's immediate and long-term well-being. Along with offering guidance for proper brushing, flossing, and eating habits, a pediatric dentist will offer preventative strategies—like sealants and professional fluoride treatments—in a fun, welcoming, and educational environment.
7. …and offer kid-friendly restorative care.
In addition to providing age-appropriate preventative care and oral health education, pediatric dental offices offer restorative dentistry—such as pediatric fillings, crowns, and prosthesis—specific to your child's unique oral health, age, and overall development.
8. A pediatric dentist can catch orthodontic issues early.
Did you know that the American Association of Orthodontics recommends that every child have an orthodontic evaluation by age seven? While orthodontia and adolescence are culturally synonymous, an early evaluation with a pediatric orthodontist can reveal potential issues with your child's palate, jaw, and permanent teeth while their skeletal system is still malleable and growing. Waiting until all the permanent teeth have erupted and facial growth is near complete can make some orthodontic interventions more challenging, or even impossible, to complete. By identifying potential issues early, a pediatric dentist can chart a course of treatment that works with the natural growth of your child's dentition and can even reduce the need for more extensive orthodontic interventions later.
9. Pediatric dentists help take the stress out of dental emergencies.
A dental emergency can be a stressful, scary experience for your child (and, let's face it, for you too!). Combining their knowledge of child psychology and skill at treating dental emergencies in kids, a pediatric dentist can provide your child with the swift, calm, and caring treatment they need to bounce back from a dental emergency and get their smile healthy again.
10. A pediatric dentist is there for you, too.
Along with providing your child the most appropriate dental care and education for their unique oral health situation and needs, a pediatric dentist is there to provide you as a parent with personalized guidance. A pediatric dentist understands that navigating pacifiers, brushing, flossing, cavities, and child oral health generally can be overwhelming or frustrating, and is available to listen to your concerns, answer your questions, and provide you with compassionate support toward your child's healthiest smile.
Dr. Shea and her pediatric dental team are honored to help you and your child have a positive dental experience every step of the way. For questions or to schedule an appointment with an experienced pediatric dentist in Rochester or Chili, NY, contact our office today.