10 Things Your Whole Family Can Do In Together At Home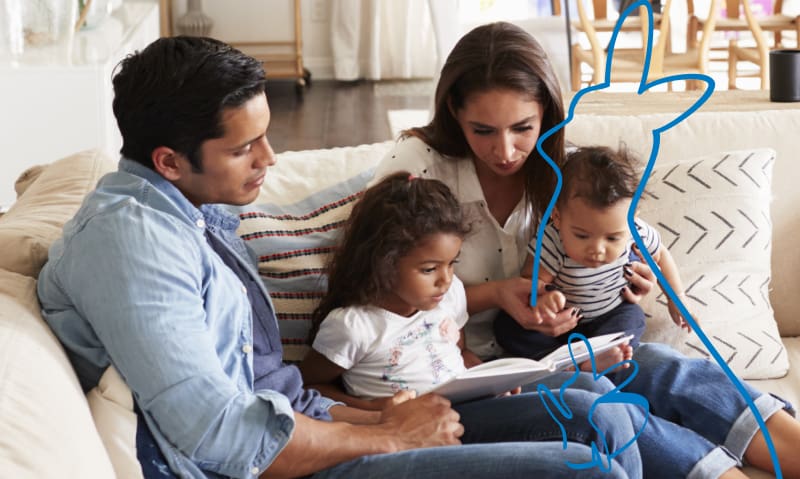 Cure your family's cabin fever during self-quarantine.
Even under self-quarantine, it's a blessing to have spare time to spend with your kids. After the first few days, however, you may find yourself out of ways to entertain your family—leaving you with a gaggle of increasingly rowdy, bored kids. Thankfully, there are plenty of ways you can save yourself and your kids from cabin fever without breaking self-quarantine. Here are 10 things your whole family can do together at home.
1. Have a movie night.
If you're ready for a relatively quiet night at home, have a movie night. Movie theaters are even adapting by allowing you to stream movies that are still in theaters from home! You can make it more special and gain an entire afternoon of fun by turning your movie night into an at-home, drive-in theater! It's as simple as helping your kids make "cars" out of cardboard boxes. Your kids will have a blast making their cars, which will, helpfully, catch most of the crumbs from snacks during the movie.
2. Teach your kids to bake.
Teaching your kids to bake, especially if they're on the younger side, can be messy, but it's a fun and rewarding task for them because it produces a delicious treat they can enjoy. It can also work as a sneaky lesson in measuring and math for slightly older children.
3. Camp indoors.
It might not be the best time to go camping at a campground, but you can still have a blast and create lasting memories by setting up a tent and some sleeping bags in your living room! You can even get an inexpensive indoor s'mores maker to roast marshmallows, allowing you to enjoy the special treat without a campfire.
4. Introduce your kids to Mad Libs.
While your kids are out of school, you can keep them learning by introducing them to Mad Libs. The word exercises teach your children parts of speech, but they're also incredibly fun; your kids will love reading the hilarious, silly stories they've created. Turning this into a family activity by making your own or working together to create a story can make it even more entertaining.
5. Reinforce the importance of oral hygiene.
While you have your kids at home for an extended period of time, it's a great chance to reinforce just how important oral hygiene is. You can read books about it with your kids and make a habit of brushing and flossing your teeth as a family. It's important for your kids to see you practicing what you preach, so a habit as simple as starting a family oral hygiene routine can greatly improve your kids' willingness to brush and floss their teeth.
6. Visit Mars—online, of course.
NASA's Curiosity rover has been on Mars for years now, diligently studying the planet and taking high-resolution photographs of its surface. These pictures have been used to create a 360-degree view of the red planet that your family can see online for free! It's full of fast facts about the planet, the rover's mission, and the rover itself; there's even an image of Curiosity that explains what each part of the rover is designed to do. This makes for an exciting learning experience for kids, especially if they love space; while many of the explanations on the website are too complex for young children to understand, they'll still love getting a look at Mars.
7. Play hide and seek.
Hide and seek is a classic children's game for a reason—it's simple, takes zero time to set up, and it's incredibly fun for kids. Playing a few rounds of hide and seek as a family will make your kids incredibly happy and can easily entertain your little ones for an hour or more.
8. Cuddle up with a good book.
Reading with your kids is an easy, low-energy activity that won't create a mess, but it also allows you to get some cuddling in and helps build your kids' love of reading. It also sneaks in a little learning, helping to improve your child's reading ability and vocabulary the more you encourage them to read. For a special treat, you can even settle in to listen to a story read by an astronaut in space! Young kids who love science and space or who want to be astronauts one day will absolutely love this.
9. Paint masterpieces together.
If your children are getting a little antsy, you can fill an entire afternoon by setting up a painting craft for them to do. You can do this in your backyard if the weather's nice, which protects your furniture and is easier to clean up, or you can set it up inside. Your entire family will have a blast going crazy with colors and being creative, and when the afternoon is over your kids' masterpieces will make great decorations for your refrigerator or presents for their grandparents.
10. Go on an African safari at home.
Africa is full of unique, beautiful wildlife—all of which you can see right from your home computer! There's a collection of cameras that record live footage of water holes across Africa, day and night. With a little patience, even just an hour or so of monitoring the cameras on and off can earn you and your kids a glimpse of lions, elephants, rhinos, cheetahs, leopards, antelope, jackals, baboons, and more. This provides a great opportunity for you to teach your kids a little bit about Africa's wildlife and the challenges they face, and kids who love animals will be thrilled at the chance to see them in the wild.
It's natural for your whole family to feel the effects of cabin fever after a few days cooped up at home. Thankfully, you can use a mixture of technology and tried-and-true methods like hide and seek to keep everyone happy, entertained, and even learning.